Common Name: Amethyst Falls American Wisteria Latin Name: Wisteria frutescens 'Amethyst Falls' Size: 30 (min) to 50 (max)
Are you looking for this plant?
Let us know
and we'll help you find it!
Are you a retailer who sells this plant? Do you want to list it here? You can enter your inventory directly on PlantPlaces.com, using a web browser or an Android™ device.
Contact Us
to request an account.
I live in Land O Lakes, Florida and have been unable to find anyone selling American Wisteria in central Florida. Does anyone know where I could buy some
Plant Facts
Category:
Vine
Family:
Fabaceae
Genus:
Wisteria
species:
frutescens
Cultivar:
'Amethyst Falls'
Origin:
southeastern USA
Size:
30 (min) to 50 (max)
Size Description:
depends on structure
Notes:
Characteristics:

Recommended

Native

Rain Garden
Do you like this plant?

Plant Images and Specimens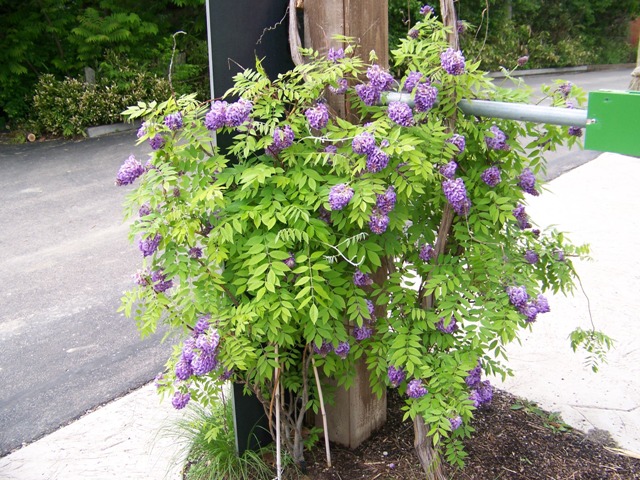 Young plant
Location: Cincinnati Zoo
Photo Credit: Steve Foltz
Flowers and foliage
Location: Cincinnati Zoo
Photo Credit: Steve Foltz
Flower
Location: Cincinnati Zoo
Photo Credit: Steve Foltz
Location:
Cincinnati Zoo and Botanical Gardens
3400 Vine Street Cincinnati OH 45220
GPS location of this plant [Latitude: 39.142630150000000 Longitude: -84.509451783333300] Specimen: 1163
Location:
Cincinnati Zoo and Botanical Gardens
3400 Vine Street Cincinnati OH 45220
GPS location of this plant [Latitude: 39.142847283333300 Longitude: -84.507359433333300] Specimen: 1263