Common Name: Panicle Hydrangea Latin Name: Hydrangea paniculata Size: 4 (min) to 8 (max)
Are you looking for this plant?
Let us know
and we'll help you find it!
Are you a retailer who sells this plant? Do you want to list it here? You can enter your inventory directly on PlantPlaces.com, using a web browser or an Android™ device.
Contact Us
to request an account.
I bought some little lambs. Some of them, but not all in that spot, seem to be wilty. I water and the next day, they seem to wilt even more. A stem scratch reveals that the main stem is green. With the heat , could that have affected them They are planted close to a blactop driveway and on the east side of the house.Any suggestions would be appreciated.Thank you.Joanne Easley
Joanne,I think I would be watching the water for Hydrangea paniculata. My first guess would be to water the entire surface area of the shrub. Soak the ground with a sprinkler all around the plant until there is adequate moisture several inches down. Make sure there is a good mulch layer on the root zone as well.Thanks,Steve
Plant Facts
Do you have this plant?
Would you like to dedicate a plant to someone?

Panicle Hydrangea
Hydrangea paniculata
Origin: Japan, eastern and southern China
Maximum Height: 8 feet
Contact us
to order an aluminum plant label from PlantPlaces.com!
Category:
Shrub
Family:
Hydrangeaceae
Genus:
Hydrangea
species:
paniculata
Origin:
Japan, eastern and southern China
Size:
4 (min) to 8 (max)
Size Description:
Large Shrub or Small Tree
Notes:
Characteristics:

Recommended
Do you like this plant?

Plant Images and Specimens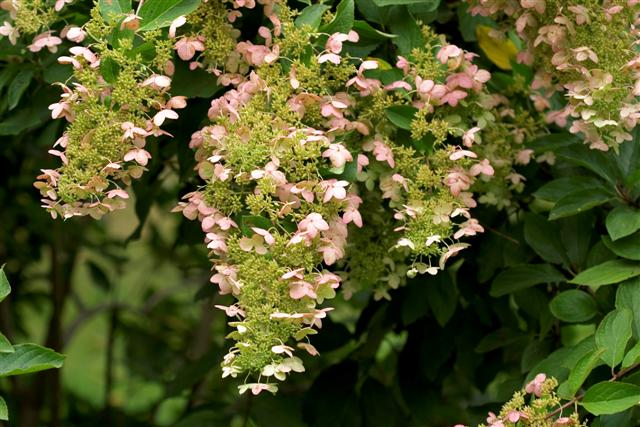 Flowers
Photo Credit: Ernie Wiegand
Season: Spring
Winter Form
Photo Credit: Ernie Wiegand
Fall color
Location: Cave Hill Cemetery, Louisville, KY
Photo Credit: Steve Foltz
Season: Oct 22
Location:
Brest Bretagne France
[Latitude: 48.402817830000000 Longitude: -4.446069430000000] Specimen: 6966