Common Name: Tangerine Beauty Crossvine Latin Name: Bignonia capreolata 'Tangerine Beauty' Size: 0 (min) to 0 (max)
Are you looking for this plant?
Let us know
and we'll help you find it!
Are you a retailer who sells this plant? Do you want to list it here? You can enter your inventory directly on PlantPlaces.com, using a web browser or an Android™ device.
Contact Us
to request an account.

A user with PlantPlaces.com Mobile for Android™ has identified this plant for sale at a retailer. You can identify plants for sale, too!
Download PlantPlaces.com Moble here, for free, on the Google Play™ Store!
Or,
read more about it here
| | | | | | |
| --- | --- | --- | --- | --- | --- |
| Quantity | Price | Vendor | Location | Notes | Date Identified |
| 6 | Not Provided | Ammond Wholesale Nursery, 6089 Camp Ernst Rd, Burlington, KY 41005 http://www.ammonplants.com/ | Lat: 39.27215640 Long: -84.32828955 | | 2013-06-19 |
would like tofind seller of the vine bignonia Tangerine Beauty willing to ship to postal zone 10804 in New York
Try Ammon Nursery in Northern Kentucky. 859-586-6246 ask for Amy. They had three there this week left over from last year. Tell her plant places sent you
Katrina,Ammon Nursery in Northern Kentucky has a few left. Ask for Amy 859-586-6246. tell her plant places sent you.
Crossvine Latin Bignonia capreolata Please help me find Thank-You, Katrina Broome
Hello, I would like to know why I could buy this plant.
I would like to purchase Bignonia Tangerine Beauty - Crossvine and I cant seem to find it.
Anyone carrying Tangerine Beauty Crossvine
I am trying to purchase two of these plants, preferably in 1 gallon pots.Where can I find it
I live in Greenville,MS Ihave been trying for mohnts to find CROSS VINE for my patio..I also have someone in the LOVELADY ,TX area that could pick up the cross vine if in ESAT TEXAS AREAs PLease poiny me in the right direction would like to buy a 6 to 12 cross vines plants to get a over head cover started Polly Burke
Plant Facts
Do you have this plant?
Would you like to dedicate a plant to someone?

Tangerine Beauty Crossvine
Bignonia capreolata 'Tangerine Beauty'
Contact us
to order an aluminum plant label from PlantPlaces.com!
Category:
Vine
Family:
Bignoniaceae
Genus:
Bignonia
species:
capreolata
Cultivar:
'Tangerine Beauty'
Origin:
Size:
0 (min) to 0 (max)
Size Description:
Notes:
Characteristics:

Recommended

Winter Interest

Dry Soil Tolerant

Native

Rain Garden
Do you like this plant?

Plant Images and Specimens
Location: Zoo/Admin
Direction: full sun
Season: Spring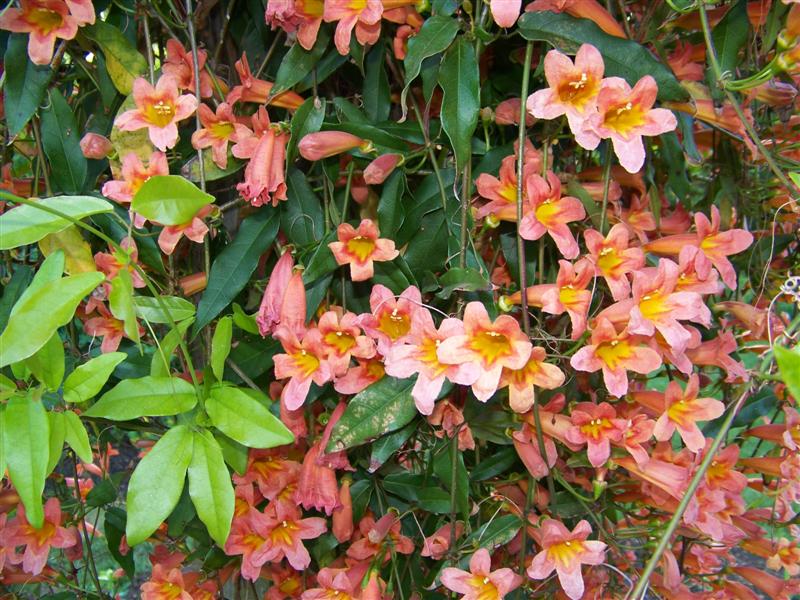 Photo Credit: Steve Foltz