Common Name: Hopi Crape Myrtle Latin Name: Lagerstroemia indica x fauriei 'Hopi' Size: 4 (min) to 11 (max)
Are you looking for this plant?
Let us know
and we'll help you find it!
Are you a retailer who sells this plant? Do you want to list it here? You can enter your inventory directly on PlantPlaces.com, using a web browser or an Android™ device.
Contact Us
to request an account.
We are looking for a purple/red/pink crape myrtle. We are looking for one that will do well in NKY, the height is not as important. Thanks
Hopi is the best. I also like Red Rocket but am not as comfortable with the hardiness. Try Ammon Nursery or Jacksons on 3LSteve
Plant Facts
Do you have this plant?
Would you like to dedicate a plant to someone?

Hopi Crape Myrtle
Lagerstroemia indica x fauriei 'Hopi'
Maximum Height: 11 feet
Contact us
to order an aluminum plant label from PlantPlaces.com!
Category:
Shrub
Family:
Genus:
Lagerstroemia
species:
indica x fauriei
Cultivar:
'Hopi'
Origin:
Size:
4 (min) to 11 (max)
Size Description:
Notes:
Selection from the National Arboretum in Washington D.C. Excellent mildew resistance.
Characteristics:

Recommended

Rain Garden
Do you like this plant?

Plant Images and Specimens
Location: Cincinnati Zoo
Photo Credit: Chris Wais
Season: August 2009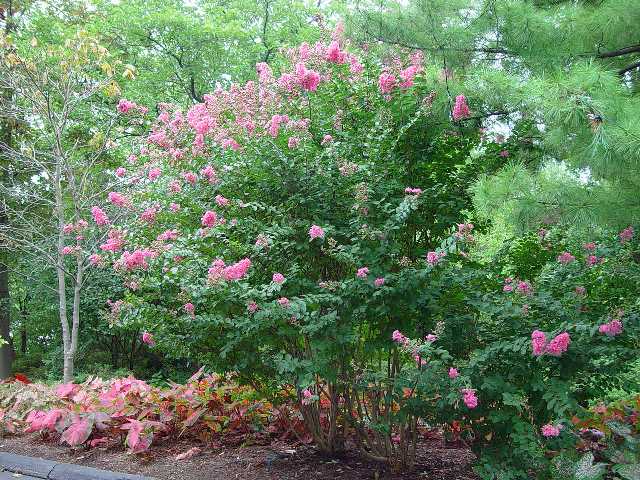 Location: Cincinnati Zoo
Flowers and foliage
Location:
National Arboretum
3501 New York Avenue Northeast Washington DC 20002 [Latitude: 38.911501566666700 Longitude: -76.969744966666700] Specimen: 1585
Location:
North Carolina Arboretum
100 Ashville NC 28806 [Latitude: 35.876355283333300 Longitude: -78.836239683333300] Specimen: 3751