Common Name: Feather Reed Grass Latin Name: Calamagrostis acutiflora Size: 3 (min) to 5 (max)
Are you looking for this plant?
Let us know
and we'll help you find it!
Are you a retailer who sells this plant? Do you want to list it here? You can enter your inventory directly on PlantPlaces.com, using a web browser or an Android™ device.
Contact Us
to request an account.
Plant Facts
Do you have this plant?
Would you like to dedicate a plant to someone?

Feather Reed Grass
Calamagrostis acutiflora
Maximum Height: 5 feet
Contact us
to order an aluminum plant label from PlantPlaces.com!
Category:
Grass
Family:
POACEAE
Genus:
Calamagrostis
species:
acutiflora
Origin:
Size:
3 (min) to 5 (max)
Size Description:
Notes:
Growth habit:
Upright
Foliage:
Finely-pointed blades up to 3 feet long, dull green and hairless but rough-textured
Flowers:
Golden to pinkish-purple (depending on the cultivar), erect panicles up to 1.5 feet long and ˝ to 1 inch wide. Flowers fade to golden-tan in the summer, and provide architectural interest until late winter
Culture:
Full sun and medium to wet soils. Does well in heavy soil. Blooms in light shade. Seeds are sterile so the plant will not reseed. Mow down clumps in late winter before new shoots start to grow. Uses: Specimen, massed, along bodies of water, dried flower
Propagation:
Division of stolons.
Cultivars:
C. acutiflora 'Karl Foerster' was named the 2001 Perennial Plant Association plant of the year. It has feathery, golden flowers.
'Overdam' has white stripes with golden plumes of flowers in mid- to late-summer.
Characteristics:

Wet Soil Tolerant
Texture: Rough
Do you like this plant?

This plant is on the recommended list of:
Deer Resistant
Would you like your own recommender list? Simply
Contact Us
or use the form at the bottom of this page.
Plant Images and Specimens
Location: Ault Park 5090 Observatory Circle Cincinnati OH
Specimen: 64
Calamagrostis acutiflora at Ault Park Adopt A Plot
Location: Ault Park Adopt A Plot
Age: 2008
Photo Credit: Brandan Jones
Season: Late Summer 2008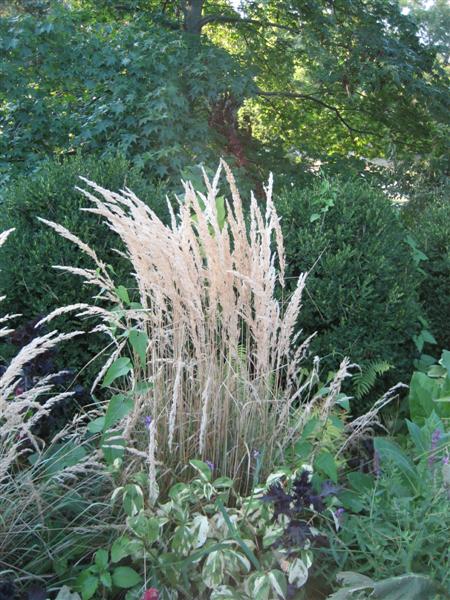 Calamagrostis acutiflora at Ault Park Adopt A Plot
Location: Ault Park Adopt A Plot
Age: 2008
Photo Credit: Brandan Jones
Season: Late Summer 2008
Location: University of Cincinnati 2600 Clifton Ave Cincinnati OH
Specimen: 107