Common Name: Royal Paulownia or Empress Tree or Princess Tree Latin Name: Paulownia tomentosa Size: 30 (min) to 40 (max)
Are you looking for this plant?
Let us know
and we'll help you find it!
Are you a retailer who sells this plant? Do you want to list it here? You can enter your inventory directly on PlantPlaces.com, using a web browser or an Android™ device.
Contact Us
to request an account.
I am not a fan of Paulownia. A bit too bold for small spaces. Flowering Cherries like Prunus yedoensis grow fast and are very pretty in the spring.
Plant Facts
Category:
Tree
Family:
Scrophulariaceae
Genus:
Paulownia
species:
tomentosa
Origin:
China
Size:
30 (min) to 40 (max)
Size Description:
Med Shade Tree
Notes:
Characteristics:
Do you like this plant?

Plant Images and Specimens
Spike of Flower Buds
Photo Credit: R. Scott Beuerlein
Season: Spring
Bark
Photo Credit: R. Scott Beuerlein
Season: Spring
Location: Spring Grove Cemetery 4521 Spring Grove Ave Cincinnati OH 45232
Specimen: 592
Tree in bloom
Location: Spring Grove Cemetery
Photo Credit: R. Scott Beuerline
Season: Spring
Location: Brooklyn Botanic Garden 900 Washington Avenue Brooklyn NY 11225
Specimen: 696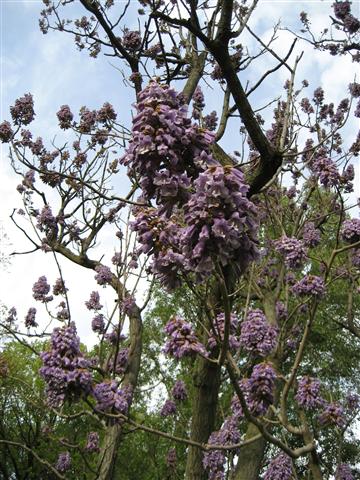 Paulonia in bloom in Brooklyn
Location: Brooklyn Botanical Garden
Photo Credit: Brandan Jones
Season: Spring 2010