Common Name: Kermes Oak Latin Name: Quercus coccifera Size: 0 (min) to 6 (max)
Are you looking for this plant?
Let us know
and we'll help you find it!
Are you a retailer who sells this plant? Do you want to list it here? You can enter your inventory directly on PlantPlaces.com, using a web browser or an Android™ device.
Contact Us
to request an account.
Plant Facts
Do you have this plant?
Would you like to dedicate a plant to someone?

Kermes Oak
Quercus coccifera
Origin: Medeterranian
Maximum Height: 6 feet
Contact us
to order an aluminum plant label from PlantPlaces.com!
Category:
ShrubTree
Family:
Fagaceae
Genus:
Quercus
species:
coccifera
Origin:
Medeterranian
Size:
0 (min) to 6 (max)
Size Description:
Notes:
Shrub Oak
Characteristics:

Dry Soil Tolerant
Do you like this plant?

Plant Images and Specimens
Location:
Birmingham (UK) Botanic Gardens
Westbourne Road Birmingham B15 3TR
GPS location of this plant [Latitude: 52.467346054934500 Longitude: -1.930485555325650] Specimen: 3537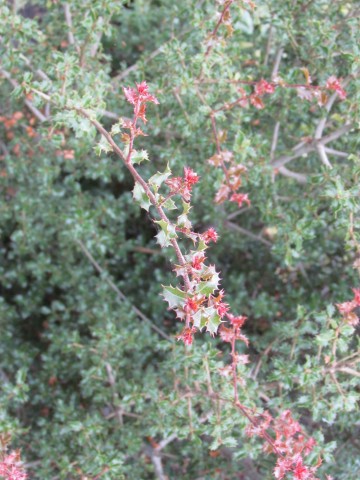 Quercus coccifera leaf
Location: Birmingham Botanic Gardens, West Midlands, UK
Photo Credit: Brandan Jones
Season: August 2013
Quercus coccifera leaf
Location: Birmingham Botanic Gardens, West Midlands, UK
Photo Credit: Brandan Jones
Season: August 2013
Location:
Zurich Old Botanical Garden
Talstrasse, 8001 Z?rich, Switzerland
GPS location of this plant [Latitude: 47.370555470000000 Longitude: 8.533101480000000] Specimen: 5862
Location: zurich old bot garden
Location: Royal Botanic Gardens Melbourne Birdwood Avenue